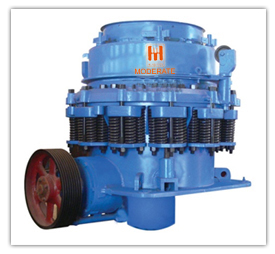 CONE CRUSHERS are Designed on layered crushing theory. With overload hydraulic cavity cleaning system and lubrication system with refrigerants fully ensure the safety and stability during operation.

With hydraulic push cylinder and lock cylinder to adjust the discharge opening width by hydraulic system. Invent and adopt the techniques of with concave holder & concave and crushing cone body & mantle after machining process to connect with cone surface to instead the anciently complicated techniques.

Cone crusher is applicable to break various ores and rocks with medium or above hardness and widely used in Metallurgical, Architectural, Road and Railway, Building.

It's ideal for secondary crushing.
TECHNICAL DATA of CONE CRUSHER
MODEL

Feed

Opening (in MM)

Close

Setting (in MM)

Crushing

Capacity

(in T.P.H.)

Recommended Power
(in Hp)

Weight Approx.
(in M. Tons)

MMC-600

MMC-750

MMC-900

MMC-1200

MMC-1300
The shown Crushing Capacity based on 1400 Kg./cubic meter material, however for different hard stage material, the percentage may vary.


MODERATE reserve the Right to make further Alterations or Modifications which are consider an improvement.


CLICK HERE FOR FURTHER ENQUIRY