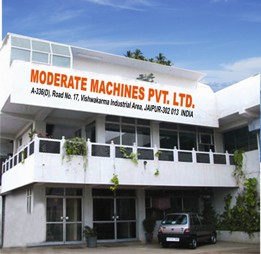 'MODERATE' is a Symbol of quality, reliability & perfection in Stone crushing Machinery.
'MODERATE'(An ISO 9001:2008 Certified Company ) was Established in 1974 as a SSI Unit in JAIPUR (Rajasthan) INDIA by Sardar Bachan Singh Ji Rattey specializing in Manufacturing of Stone Crushers; Roll- Crushers; Rotary Screens and conveyors etc.
'MODERATE' now having a modern, well equipped unit for manufacturing of Complete Crushing & Screening Plants (Two and Three Stage) 50-400 T.P.H. Capacity.
Apart from Conventional Manufacturing of Stone Crushers; Roll Crushers; Vibrating Screens and conveyors, Now We had indigenously developed Complete Crushing & Screening Plants (Two and Three Stage) 50-400 T.P.H. Capacity. Consisting Hoppers, Grizzlies, Jaw Crushers (Single & Double Toggle), Vibrating Screens, Cone Crushers, Vertical & Horizontal Shaft Impactors (Rotopactors) and Belt-Conveyors.
Our Successfully Running Number of Plants (Two and Three stage) in India and overseas market as well as our Satisfied Clients are our Mile Stones of Success.
Our strength is The Spirit of Moderate Team. This Well Equipped Highly Technical Expertise Team accepts every new opportunity as a test of Strong Will-Power to perform better and faster than the previous job. We follow Strict Quality Control backed by Advanced Technology alongwith Excellent Experienced Workmanship. Each & Every Component or Equipment is designed & Manufactured keeping in mind Safety, Stability, Economics and Reliability of Operation at every step.
We also have well equipped quality cast iron foundry up to 4 MT Single piece Capacity.
Herewith we hope you can get the most benefits from Moderate products. We warmly welcome customers around the world to take visit at our website or contact with us directly for more details.